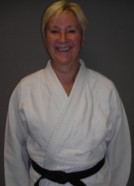 Circuit training is all very well but it's going round in circles and getting no where. I needed something which would keep me fit, interested and had a purpose. My hairdresser suggested AIKIDO. I went along to a class to have a look but soon became a student.

I have met and trained under many excellent Sensei's, including Sensei's Takeno, Paul Stephens, Eva Stauffer, Andy Squires, Tony Yates and Gary Yates.

Aikido has taken me to Germany, Spain, Canada, Portugal, Bulgaria and several different place in England. I now have my Dan Grade and my Assistant Coach certificate. I have trained for many years under Sensei Andy Squires, a very patient, clever and knowledgable Sensei and I hope to keep training with him for many years to come. So come and join us.
Sadly Diane passed away from cancer, we'll aways remember her humour, kindness and her beautiful style of Aikido - RIP